Achyut Godbole & Atul Kahate,
Professionals and Well-Known Authors
The C programming language self-learning software created by Mr Bhalchandra Gholkar and his team is extremely useful, simple to use, and appropriate for all undergraduate/graduate students who want to master C language programming. Moreover, the software guides the student as if the student is in a classroom environment without the fear of missing any key concepts. It can be replayed again and again till the student is conceptually clear. It can be seen that the software assumes that the student has very little background of key programming concepts and makes the student learn from the ground up. It is a very welcome addition to the literature of the C programming language, albeit in a digital form. I highly recommend it for all students, teachers, and people who want to learn the C programming language from scratch
---
@CMarathi Great conversation! Thanks for showing me the demo. Product has a lot of potential. Please keep me posted. Thanks!

— Adeel Khan (@adeelnkhan) February 4, 2014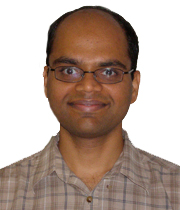 Vinayak S. Naik, PhD.
Assistant Professor, CSE, IIT, Delhi
All the leading universities, MIT, Stanford, etc., are moving towards online teaching via videos. This method brings high- quality education, which otherwise is inaccessible, to doorsteps of students. C-Marathi is a project that not only follows the same model, but also brings it in the native language of the students, in process making the education more accessible. I reviewed three of their videos. I am happy about the content of those videos. I hope that the project covers far more topics and produces more content. My best wishes are with them.
---
Vice President
Graphics Software Development and Validation, Intel Corporation Folsom, California
Hello Mr. Gholkar,
Kudos to you and your team for an innovative approach towards education, in particular to help the students from rural areas. Having grown up in Miraj (I am sure you've heard of it) where I studied till 12th grade, I know how hard it is for students from that region to have access to computers. Your approach also helps those new to computers learn the subject in a Marathi friendly way.

In terms what more you can offer to your audience: I feel the education will prepare someone to be a "technician" level person in the computer industry. The content needs to be much more deeper in order to teach the fundamentals of computer science – data structures, machine level programming, higher level programming, data bases, compilers, operating systems. Those might not be your objective, and perhaps for such courses one has to go to a university. But introducing those concepts in your unique way would be beneficial to the students.

Another thing- English is the language of computer industry all over the world. So while you are getting the students started in Marathi, i would recommend that you switch over to English during the course and ensure you are teaching them the programming language in English also. Our students need to be proficient in English if they are succeed in real world.

I wish you and your team all the BEST!

-Upendra
---
My opinion about this course…
I have completed about half the course so far, and i am very impressed!
I enjoy the animations – they help me learn and retain the information; i can "see" it in my imagination later on.
I enjoy the calm, smooth narration of the "teacher" – she helps me learn and retain the information aurally; i can "hear" her voice in my imagination later on. I even like the way she repeats herself at times, to make sure the information sinks in.
I like the way the "teacher" conveys respect and admiration for Dennis Ritchie and what he did for us in inventing C – it reminds me of the debt we owe him.
I'm very impressed with the syllabus that Mr Gholkar has produced. I see he intends to do more: structures; file handling; preprocessor. More bounuses!
And i'm very impressed with his generous helpfulness. Recently i got myself into a muddle over how to pass strings to functions using pointer vs array notation. Mr Gholkar was extremely helpful in clarifying all that, with explanations, code, and even a little improptu graphic/animation.
There is nothing i dislike about this course, and much that impresses me. Thank you Mr Gholkar! 🙂
Alex
---
Mohini Muranik, B.E. (Computer Science and Professional Blogger)
I have visited the sites on C Marathi earlier too from 
about.me
 page of yours. The concept of C Marathi is innovative and I am sure it will be helpful for the students and everybody who wish learn C with Marathi.
The posts, videos and teaching methods are simplest ever. Especially students in rural areas are a bit scared of English and don't get much quality to education too by which they will first learn English and then understand the complex technical language. C Marathi have solved this problem. People can directly focus on C without English language fluency burden. Thanks for the innovative work.
The
wordpress
blog is also excellent, no need to different comment about the quality of content. Loading time of blog is a bit longer, might be due to image loading time of the header.
---
Vivekanand College, Kolhapur, BCA Department
Contents of C Marathi are really very Innovative and product has been carefully developed. It definitely would be very helpful not only for students to make their career but also for people working in the industry.
---
@CMarathi yeah. Saw some videos on YouTube. Really nice way to teach c. Specially eng problem aslelya marathi mulansathi. Nice initiative:-)

— ChiGo (@onebitChigo) July 19, 2013
---
अमित पेटकर, रामदास शिंदे, वैभव दुर्केवार, शंतनू कापडे, शुभम काळे, रविंद्र गेडाम, राहूल पाथाडे, राजेश खरवडे, पवन दहाने, प्रणव गिरी, संतोष चव्हाण, लक्ष्मण सामसुंदर, अरूण मस्के, सुमीत राठोड, शंकर नागूलकर, विवेकानंद मस्के, सुमित मेनेश्वर, सुनील आढाव, सुरज पंजावर
जगदंबा कॉलेज ऑफ इंजीनीअरींग, यवतमाळ
C Marathi project of teaching programming language in Mother tongue is really innovative and we understood the concepts of C programming language very easily. We understood all those concepts which we could not understand in the class, as these contents have been explained using animation. Because of simplest language of explanation we don't need to remember them as we have understood all those concepts as soon as we listened and watched. Initially we were afraid of C programming language because of its complexity, however due to simple and interesting explanation of concepts; it is going to be very useful for us. We thank you for developing such useful contents for students like us.
---
Now learnig C language in my own #Marathi….. Amezing experience so far…. thanks @innovative1959 @CMarathi awesome work !!

— Bhushan Wanjarkhdkar (@struggling_er) July 18, 2013
---
Samidha Ghatge, B. E. (CSE)
The Project C Marathi is Super Innovative
---
Sachin Jamdade, Student, Government Polytechnic, Mumbai
तुम्ही जावा लॅंग्वेज आणी C++ लॅंग्वेजसाठी काहीतरी करा नां…ते ऑब्जेक्ट आणी क्लास डोकं खातात खुप….!
---
Shrirang Joshi, Committee Member, Marathi Mandal in Minnesota, USA
It's a great initiative and completely unique. We congratulate you for this project. Hope it reaches out to more and more. We will share the link of your website with our members.
---
Nikhil Jagtap, Satara, Second Year Student (Computer Science)
मी C Marathi चे फ्रेमवर्क पाहीले. पॉइंटर चा व्हिडीओ पाहीला. अतिशय मस्त आहेत. शिकवण्याची पद्धत खुपच अभिनव आहे. C language मध्ये कोणकोणते कंसेप्ट्स आहेत ते मराठीमधून शिकल्यास चांगल्या पद्धतीने नक्की कळतील. अशा प्रकारच्या पद्धतीने शिक्षण मिळाले तर मराठी "बिल गेट्स" तयार होण्यास वेळ लागणार नाही
---
Saurabh Kadam, IISER, Pune
Just watched contents developed by team of C Marathi on youtube. Highly impressed by their simple and joyful teaching methodology. Not only a novice programmer but even an expert faculty must watch their contents for upgrading their knowledge about C Programming language. I would like to appeal the team to go ahead and developed same types of contents for C++ and Java
---
Rahul Mahale, DevOps Engineers at Solution Enterprise, Pune
I went through the web site of C Marathi. Really a Great Job. The concept of teaching programming language in Marathi is really amazing and the team seemd to have work relly hard for developing such project exclusively for Marathi students spread across Maharashtra. I would love to see from them similar contents for Data Structure and C++.
---
Harshad Kawale, Sanjeevan Engineering & Technology Institute, Panhala
Your C Marathi videos would be extremely useful as all of the contents are in Marathi and so easy to understand.
---
Piyush Diwate, Student(B.E. CSE) Annasaheb Dange College of Engineering & Technology) 
The C Marathi is usefull for everyone who doesnt understand computer languges….& other benifit is even a novice can learn it on his or her own either from his college or home…
---
Mahesh Jadhav, from youtube
Very good initiative in this area. This will be very useful to all Marathi youths. Keep doing
Great Things. All the Best!
---
Unknown from youtube
अप्रतिम!!!!!!!!!!!खूप खूप आभारी आहोत! आपल्या हा उपक्रम मराठी तरूण पिढीला खुपच फायद्याचा
ठरणार आहे. प्रत्येक मराठी विद्यार्थ्यांने या ऑनलाइन ट्युटोरीयल ला भरभरून प्रतिसाद द्यायला हवा.
आयटी क्षेत्रात मराठी मंडळी अग्रेसर आहेत पण अजूनही नवनवी शिखरे तरूण पिढीने सर करावीत हिच
ईश्वर चरणी प्रार्थना. अभिमान आहे मी महाराष्ट्रीय असल्याचा….
मराठी मंडळी : कृपया C Marathi Channel ला subscribe करा! मराठी पाऊल असेच पुढे पडत राहू
द्या!! जय हिंद! जय महाराष्ट्र..!
---
Vikram Shinde, from youtube
Really it's sooooo Innovative
---
Trupti Veer, from youtube
Too good. Real world analogy makes it more simple to understand
---
Kshitij Kulkarni, from youtube
Explaination is really very good. Students will understand this in effective manner.  
---
Vivek Kulkarni, Assistant Editor, IBN Lokmat
Interesting !! thanks for sharing info., My great wishes to you and your team in all your future endeavors.
---
Swapnil  More
Great Initiative !!!! laiiiiiiii bhaaaaariiii.
---
Lokesh Phadnis, Aurangabad
मस्त एकदम!!!!!!!, आत्ताच पाहिला आणि आता शेअर पण करणार, सुंदर…
---
Kounteya Chougule, CeBIT, Germany
You and your team have done really impressive work. Though you have developed it for students of engineering and diploma, it would be beneficial for fresher, trying for entering into the software industry.
---

Abhijit Paradkar, Michigan, USA
You project would definitely help all students of engineering for understanding concepts of language. Your effort of explaining each concept in different way reflects how innovative you are and think out of the box. One small suggestion, develop it in English voice over but in the same interesting way.
---
Amar Konde, IBM, Pune
I just came across videos on C programming language developed by Innovative team. I would have been more confident had I got that such informative source 8 years back when I was struggling for entry into the IT industry. Best wishes guys. Are you coming with a few more languages? Let me know. Tell me if I can offer any help to your team.
---
Uday Takbhate, Toronto, Ontario, Canada
It seems to be perfect compilation of all chapters of C programming language. Contents are just excellent example of blending of theory and practical aspects of C language. It would definitely assist not only undergraduates but also faculties of C language to understand intricacies of C programming language.
---
Aniket Mandrekar, Computer institute owner, Chandgad 
I carefully watched the swap program of C programming language. The way it has been explained, I am sure, difficult concepts of C like this one cannot be further simplified than this method, particularly to students from village. Why nobody in the past ever has tried this methodology of e-learning?
---

Abhijit Khare, Phoenix, Arizona, USA
It's really an innovative idea to design and develop such an e-learning framework for the masses spread across Maharashtra taking education in colleges in rural and semi urban locations. The team should also try for English version of the same and also for programming languages like C++, Java, Data Structure and PHP.
---
Apurv Kulkarni, New York
C Marathi is good. I liked the way program has been explained.
---
Rakesh Tembhurne, Nagpur
Impressive work with your C language tutorials in Marathi. I wish you good luck.
---
Kaustubh  Dighe
Great video , many many thanks to team. Other marathi IT professional must learn some lesson from this , They can also contribute in spreding science , working knowledge of computer for our Marathi society , than writng books & selling books & earning money from marathi society.
---
Ankita Pawar, Computer Engineer, Bangalore
Learn C Language in Marathi. gr8 product
---
Manoj Sawant, Software Engineer, Wipro Technologies
It is really good for all Marathi software aspirants
---
Prasad Shirgaonkar, Founder – aadii.net
This is a fantastic project, kudos to you guys!
---
Apurv Kulkarni, New York(@apurvCoolkarni)
This sounds interesting. This can really bring talent into the industry from students who learn in Marathi.
---
सौरभ कुलकर्णी, Mithi Software,Pune
C Marathi चा डेमो पाहीला. अतिशय उत्कृष्ठ. प्रशंसनीय कार्य. तुमचे कार्य वेगाने पुढे घेउन जावा. या सारखेच अजुन इतर कोणत्या लॅंग्वेजसाठी प्रयत्न करणार आहात का? तुम्ही कंटेंटच इतके सुंदर व परीणामकारक तयार केले आहेत की विद्यार्थ्यांने पाहीला की इतर विद्यार्थ्यांना तो नक्कीच सांगणार व तुमचा प्रोजेक्ट virus प्रमाणे सर्व ठिकाणी पसरेल याची मला खात्री आहे.
---
विनीत पाटील, इंग्लीश टिचर, सॅन फ्रॅंसिस्कॊ, अमेरीका
आवडला. कंप्युटर लॅंग्वेज शिकवण्याचा खुपच वेगळा पहीला प्रयत्न…! तुम्ही या पुढे रुबी ऑन रेल्स सुद्धा इ-लर्निंगची च्या माध्यमातुन शिकवण्याचा प्रयत्न करा…
---
विनायक बोडके, पुणे
प्रोग्रॅमिंग लॅंग्वेज मराठीतुन शिकवण्याचा एक तळमळीमुळे मनापासुन केलेला प्रयत्न…शुभेच्छा
---
सौरभ जाधव, इंजिनीअरींग स्टुडंट, मुंबई
अदभुत आणि विलक्षण प्रकल्प…अविश्वसनीय कामगीरी
---
सुरज देशपांडे, व्यावसाईक प्रोग्रॅमर
खुपच सुंदर, उत्कृष्ठ रचना आणि कल्पना. आवडले. शुभेच्छा…
---
विक्रम कुलकर्णी, दापोली
पुढाकार घेउन केलेला एक स्तुत्य उपक्रम
---
मोहीत पवार, व्यावसाईक, नवी दिल्ली
मराठी विद्यार्थ्यांसाठी केलेला एक अभिनव प्रयत्न. तुमच्या अशा प्रकारच्या कामाची मोहीम पुढे चालु ठेवा. मन:पुर्वक शुभेच्छा
---
गणेश कुलकर्णी, पुणे
खुपच मनोरंजक पद्धतीने प्रोग्रॅमिंग लॅंग्वेज शिकवण्याचा मराठी विद्यार्थ्यासाठी केलेला अभिनव प्रयोग…
---
अशुतोष देशपांडे, संगणक अभियंता, ठाणे
मराठी विद्यार्थ्यासाठी केलेला पहीलाच प्रशंसनीय प्रयोग…!
---
सारंग कुलकर्णी, पुणे
मराठी विद्यार्थ्यासाठी अतिशय गरजेचा असलेला सर्वोत्तम प्रयोग…
---
पराग, साऊथ आफ्रीका Via Twitter
उत्तम व अभिनव प्रयत्न…
---
भुषण जोशी, इंजिनीअरींग स्टुडंट, औरंगाबाद
तुमचा प्रोजेक्ट अतिशय आवडला
---
विक्रम पेंडसे, सॉफ्टवेअर प्रोफेशनल, पुणे
छान व अभिनव प्रयोग. तुमच्या पुढील कामाची वाट बघतोय…
---
Vinayak Via Youtube
Lovely. Kudos to you. I am not into that much programming, but, I am sure this is going to help our Marathi students to a great extent. Appreciate the efforts taken by you. Jai Maharashtra!! – 
---
Amol Sonawane via Youtube
एकदम मस्त………….! – 
---
Avdhoot Patil
Very very nice video. Surely it will give some relief to the students who feels, learning C in English is difficult. Good Work IESKPL. Please keep posting. Thanks. –
---
हर्षल पाटील…
छान अभिनव उपक्रम केलाय तुम्ही मराठी विद्यार्थ्यांसाठी. विद्यार्थ्यांचा भरभरुन प्रतिसाद मिळेल ही खात्री आहे मला….शुभेच्छा 
---
अमोद…ट्विटरच्या माध्यमातून
Good information and initiative. Knowledge field is like ocean and student out reach can have limitations. It is a good idea to offer what students need. All the Best!- 
---
@CMarathi this is a fantastic project! kudos to you guys! Let me know if I can contribute to your efforts in some way. All the best!

— Prasad Shirgaonkar (@prasadshir) July 28, 2012
---
दिप्ती देशपांडे…via youtube
झक्कास एकदम !!! Graet Idea !! and Kudos Team !! Allllll the Best !!- 
---
Snehal Gat, Pune via Youtube
Awesome video. I appreciate C Marathi team to introduce C programming in Marathi (Mother tongue). For sure this videos will help students to learn C Programming. I request you keep posting.- 
---
Mr. D. B. Medhe, Lecturer, B.Sc. Computer Science, Gopal Krishna Gokhale College, Kolhapur
The C Marathi Project is really innovative and would be helpful for students. Its really an excellent concept. 
---
Miss. Vrunda Warke, Assistant Professor, Computer Science, GKG College, Kolhapur
The framework of C Marathi is really very nice and would be helpful for understanding concepts of C Programming language. It would be very helpful for learning advanced languages like C++ and Java.
---
Mr. V. V. Patil, Assitant Professor and Mrs. Swati Kamt, Lecturer, B.Sc. Computer Science, Gokhale College, Kolhapur
The concept is really very innovative and excellent presentation of C Programming language through e-learning.
---
Waman Parulekar, Ratnagiri
Use of Native language in any course make that subject easy to understand. this is really good initiative by your team. keep it up…best of luck for future
---